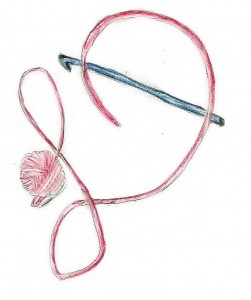 I found a little trip down memory lane today when my kids were pulling out photo albums. When I was a kid growing up, my mom use to create oil paintings. I have a couple in my home now, but they were and still are almost the only things on the walls of my parents' home. She had been paining long before I was born, and I remember as a child flipping through a small photo album that she kept of all the paintings she had created, in a way it was her portfolio.
When I was in my late teens and early twenties, someone had asked about all the afghans I had made. At this point I was already over a decade of stitching and had made many finished items to my credit, but I thought about my mom "portfolio" and picked up my camera to document some of the work I had done. I was probably consistent with this for a few years, and since designing it has become important for me to do such. However when my kids pulled out my little "portfolio" photo album it was a little journey for me.
I know that not every piece is in that album, but the ones that are brought back memories. There were many wedding gifts, and baby showers, many birthdays, and thank yous. I knew where most of the afghans had found homes at, and a couple I could not quite place.
In a way it is amazing to look back and realize how prolific I have been in my creating. This little book may only represent a couple of years of work, but it fills many pages. I have a scrap afghan that represents this as well; it is a full size afghan made out of baby yarns. These baby yarns are the left over yarn from the numbers of baby afghans I have made, and if I even wonder how many babies have been wrapped in a blanket I made, I can get a starting point with the 35 different colors in the afghan. Even that was created nearly 20 years ago, so I know the number would have increased since then.
I guess as a maker I need to keep my hands moving and my mind designing, I guess it has always been a part of me, but it is only in looking back that I can see that. Only in taking stock in where I have been can I better see my journey forward.