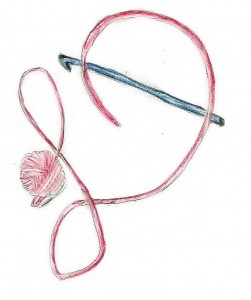 I never really think to pull out my camera, so I'm probably an abnormality in this day and age, which is why I didn't get more photos of all the wonderful things I saw. Last week I was in Indianapolis last week attending the Crochet Guild of America (CGOA) Summer Chain Link Conference (sometime known as the Knit and Crochet Show), and had a wonderful time. There are always so many inspiring people that have a love for crochet (most of which are not published designers, or national teachers, not that those aren't inspiring as well).
If you have never attended a national conference, I recommend that you at least investigate going someday. If you are like me, you have looked at the cost and asked yourself, "Really, I think I could learn that from a book/video, so why spend that, to go there?" A very valid question, but what you get from the conference cannot really be measured in dollars. Granted attending a conference has launched my crochet career, but even if it hadn't I would probably still attend, as the camaraderie of fellow crocheters is enough to encourage you to attempt new things and improve your hobby/craft in ways you could never anticipate. There is nothing like walking through a hotel lobby and seeing groups of crocheters seated in various clusters chatting and stitching away. I can't think of anywhere I've felt so at home.
Some are fortunate enough to have this experience in their local community through crochet guilds or stitch clubs, at least at meetings and events that they sponsor. The conference is just a really large version of this, not to mention the teachers have many years of teaching experience and years of expertise, they have forgotten more then I will ever learn.
Well I could probably go on for a while about how much I love these conferences, but if you are interested in experiencing one for yourself, join me October 2-6 in Concord (just outside Charlotte), NC (click here for more information), or if you would like to create a crochet community in your town, investigate the support the CGOA can provide in helping you.