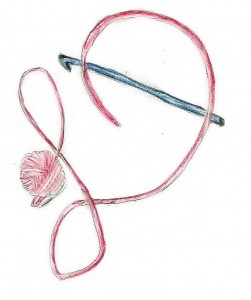 I am sometimes surprised at the "ingredients" I find making up my yarn. When I began crocheting I treated all yarn as if they were all the same, then as I began to get a bit more serious about working in crochet for a living I found that I needed a better understanding of my material in order to make my designs a bit more practical, and understand how my materials could affect the outcome.
Over the last several years I have taken in vast amount of study and research in yarn and the fibers that create them, yet there are still times that I pick up a skein admire its feel, admire its texture and then look at the label and I am a bit taken aback as to its contents.
One such yarn is Valley Yarns Colrain. It is a simple soft yarn that has a slight sheen, which lead me to think that the label would look much like most yarns on the market a wool mixed possibly mixed with an acrylic, so I was a little taken aback when it stated "50% Merino/50% Tencel™".  The Merino did not surprise me, it is a well-known wool that is known for its softness and warmth. As a drawback it is also known for its great tendency to felt (that is shrink), but it is readily found in the markets and a fiber that most esteem to be like.
It was the Tencel™ that caused me to give a bit of a pause. It is a synthetic material that is created from wood pulp, as is rayon. Tencel™, as you may have noticed is a trademarked name, this is because the process which creates this material is trademarked, so all I really know about how it is created is that the base is wood pulp that uses a dry jet-wet spinning method to create this filament.
The properties of Tencel™ are vast.  It is recognized as being soft, as well as strong (even strong when wet). It is often cool to the touch and feels silky, while being able to wick moisture from the body. Like most synthetic materials it can also be created to imitate many other textiles and textures, in this case suede, leather or silk.
The combination of these 2 materials creates a pretty stable yarn. The Tencel™ creates the smooth feel while the Merino causes for the warmth. Each4 ply  ball is 50 grams and 109 yards, so one skein may create a hat or something small, so consider picking up a few extra balls for almost any project.