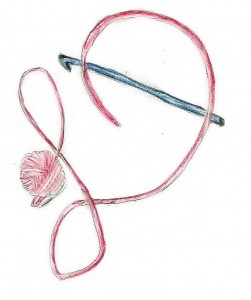 I love when a design comes out like I was hoping! Excursion Wrap came out just as I envisioned, okay, better than I could have hoped. I saw this design in my mind as soon as I laid hands on the yarn, it just came to me and I had to find a way to get it worked up in the stitches.
That is not to say that it came out perfectly in just one try, I ripped things back several times. I played with some different combinations of stitches and color sequins before finally landing on the perfection, and the difficulty of using multiple color rows and designing like this is when ripping back I end up with many more ends to weave in….some right in the middle of rows, as I ensure the use of all the yarn.
The wrap is worked in 2 contrasting colors, which offer a bold definition of the design. The yarn is Silk Baby Camel by Lisa Souza Dyeworks, and is lusciously yummy! It is soft, but with nice structure, making it a dream to work with. Being that the pattern only takes 2 skeins, it is manageable in both crocheting and in cost.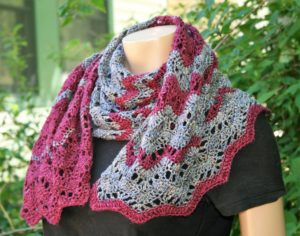 The lacy ripple pattern is worked as a 3 row repeat, so it is simple to memorize yet keeps the pattern engaging. So you can work the stitch pattern successfully without getting bored with it.
The color sequencing is what really brings this design to life, it demands the eye to transverse the entire piece and then to look again. The altering of the stitch pattern and the colors offers a cascading effect of interest that will definitely have you garnering praise.
This wrap is a show stopper, one that makes people stop and admire your handiwork. I already have plans to work up this design a couple of more times….once is just not enough!