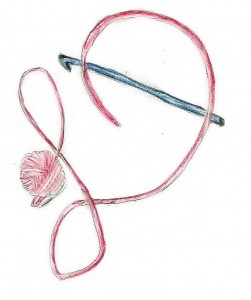 Welcome to those visiting me from ELK Studios! Enjoy the Crochet-a-Long (if you would like to join, please check out the ELK Studio Christmas Present CAL)
Hard to believe that the holidays are fast approaching! To help work up some holiday gifts I am sharing my Tunisian Mini Shawl pattern. This is a shawl that is worked from the bottom point upward, with increases on either end of the row. I will admit that the very first row can seem like a bit of a challenge, but it becomes a simple repeat after that.
Tunisian Mini Shawl by: Linda Dean 
Add a little color to your wardrobe and brighten up any ensemble with this silk mini shawl. Worked in Tunisian crochet on a large hook, this project works up quickly and can be easily made into a full size shawl. Don't be discouraged by the tricky start, it gets easier by row 2!
Skill Level: Advanced Beginner/Intermediate
Finished Size: 40" wide, 24.5" long
Materials List (for sample):
Tunisian Crochet Hook size P/ 11.5mm or size needed to achieve gauge.
1 skein Lisa Souza Glacier, sport weight, 100% Bombyx Silk Yarn (273yds/3.5 oz, 250m/100g) color: Flahridduh (www.lisaknit.com)
Tapestry needle
Material list options:
Any fine to medium weight yarn
Tunisian hook at least 2 sizes larger than standard crochet hook to be used for chosen yarn (i.e. if you would use a H/8/5.00mm standard crochet hook with yarn then use a K/10 ½/6.5mm Tunisian hook)
Tapestry needle
Gauge: 10.5 tss /8.5 rows =4"
Pattern Note
Each row consists of a forward pass and a return pass.
Increases are worked on either side of this triangle by addition of loop to hook; worked by inserting hook into the same stitch as previously worked, but in a different location.
Abbreviations:
ch: chain
rep: repeat
RP: Return Pass: YO, pull through first loop, *YO and pull through 2 loops on hook; Rep from * across row until 1 loop remains on hook. (need a visual? Check out my tutorial)
Tss: Tunisian Simple Stitch: Insert hook behind vertical bar, YO, pull up a loop. (need a visual? Check out my tutorial)
sc: single crochet
st(s): stitch(es)
YO: yarn over hook
Row 1: Ch 2, insert hook from back to front through the ch closest to hook (this is so that the current working loop does not work off), YO, pull up a loop, insert hook in back bump next ch, YO, pull up a loop, insert hook between the remaining two loops of same ch just worked in, YO, pull up a loop (4 loops on hook), RP.
Row 2: Insert hook from back to front of the loop created just below working loop, YO, pull up a loop, Tss in each bar across to end (including bar directly below starting loop), and end by inserting hook through ch st, YO pull up a loop, insert hook between 2 loops remaining of ch, YO, pull up a loop (6 loops on hook), RP.
Rows 3-52: Rep Row 2, increasing by 2 stitches every row as established. (106 loops on last row)
Row 53: Ch 1, sc through each bar across, and through last ch st.
Finish off.  Weave in all ends.
©2013 Linda Dean Crochet