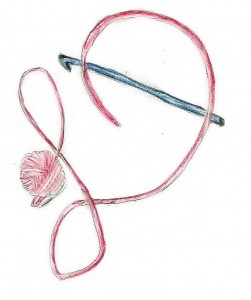 Halloween is right around the corner, and my latest design in the October 2016 issue of the digital magazine, I Like Crochet, has a quick costume to turn your little one into a dinosaur!
The Dizzy Dino consists of a hat and sleeves (or arm warmers) that feature spikes, to highlight this reptile features. Everything really works up pretty fast, and can be created in a variety of colors to have a dinosaur pack on your trick or treating adventure.
One of the reasons I enjoy this design, is that it is soft, so kids with issues of textural feel can be comfortable. It is washable, so that it can have a life after the holiday as part of the dress up box. Finally it has warmth. Halloween in my geographic area is always a toss-up, it could be raining and 50 degrees or it is hot at near 100 degrees. This always makes it a little difficult to plan costumes, but in with this hat and arm set I can pair it with a sweatshirt or T-shirt and still have an effective dinosaur.
I will admit, this design did not begin as Halloween, it actually grew into creation from kids party ideas. One year I actually crocheted hats for all of my guests to my son's birthday party. I filled these hats with candy and such, essentially turning the hat into a party favor bag, which had life after the party. This might seem a little over board, but I know that when my kids typically attend a party they come home with a simple bag of small toys and candies. These party favors usually leave a trail through my house of wrappers and scraps of paper, and me attempting to secretly throw this out, while my kids treasure them as memories of a good time. So by creating hat party favors I felt like it was actually a memento that could be kept without feeling like my kids were hoarding trash.
At my son's party the hats seemed to be a hit, they poured out the candy to wear them, and even used them to help distinguish teams for a game a soccer in the back yard, hats vs hair.
Any way you look at it this design as possibilities, and will bring a smile to every kids face.