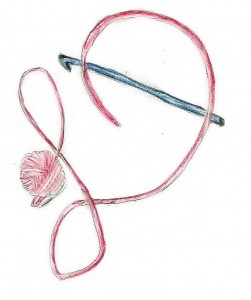 I am a self taught crocheter; I learned from a long out of print book when I was about 10. However only recently I have learned the benefit of actually taking a crochet class.
My first class was at a Crochet Guild of America (CGOA) Chain Link Conference (aka Knit and Crochet Show) in July 2011, with Karen Ratto-Whooley on Savvy Singles, learning new approaches to single crochet stitches. (This conference changed my life, but that is a story for another day)Usually I read through class listings and think "I have seen that in a book, what else they can be showing me", but after taking this class I realized that there are more than the words in a pattern or book that created my hobby. Being in a room of fellow crocheters getting more detailed instruction then I thought was possible was an eye opening moment.
The designer doesn't talk about the inspiration or thought process behind a pattern in any book that I've found, but in the class I was hearing the "background" of how the stitches work and the dynamics of how they work with the pros and cons of each stitch.  The fellow students offered more then I would have thought by bringing up questions I would have not considered. Even after crocheting for nearly 30 years, this old dog was learning new tricks.
This experience has encouraged me to take a handful of classes every year, and the new ideas and concepts that have opened up new worlds to me. (The 5 Peaks Shawl by Vashti Braha gave me a whole new outlook on Tunisian Crochet) Just because I knew the stitches, could read a pattern and complete the fabrics I desired, I didn't realize there was another world within the one I knew. How often this happens in life; there is more depths in that we love than ever imagined.