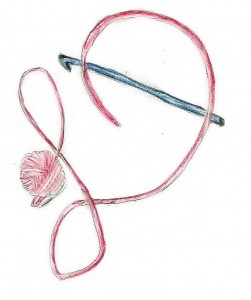 As I attend several graduations I ponder my days of completing high school and where I thought my life would go, and if someone told me that I would be designing and teaching crochet I seriously would have laughed at them. I even remember telling a friend my senior year of high school, after he was in awe of an afghan I had created that I should make and sell them for a living, that there was no money in such an endeavor.
Granted all these years later, I will not say that the money in crochet is great, but it is now my profession, even if it took an odd journey to get there.
Like most students graduating high school, or even college, I was never able to answer the question "where do you see yourself in five years?". A great question, but one that always felt like I could not adequately answer.
I worked the food industry, I worked retail, I worked for startup companies and local government before finding myself currently in crochet. In reality I would probably still be working local government if there was not a change in the direction of the management that no longer wanted to employ part time workers. I had been working part time for a few years juggling the typical family demands of running a household and raising kids, and the costs that I would incur in the additional child care did not justify working full time.
When these management decision were made, I was fortunate to have already had an opportunity to sell my first crochet design. It began just a couple of years earlier, when I was attending an event with a silent auction and I won lessons on using a drop spindle.
I had already been crocheting for decades, but due to the speed of completing my projects I was wanting to find a way to enjoy the process longer, so learning how to make yarn on a drop spindle was an exciting adventure. During the lessons my instructor was telling me all about her local guild, and invited me to attend a meeting.
I admit I was a bit apprehensive, but after finally taking her up on her invitation, I met so many interesting people that fostered a new desire to learn and grow in all crafts related to fiber.
I then learned of the Crochet Guild of America, and that it had a Masters program. I decided to test my skills in this program, of which I graduated. I was then invited to attend the annual conference of this organization, with the encouragement of my family I attended. I met so many people and gained so much insight. With a determined new friend's guidance I sold my first design, it was published the same week I left my job in government.
You never really know when life can completely change, you never know when a skill you used as a child will now become your income source. I do not know "where I will be in five years", but I will continue to support the twists on turns of life's journey.