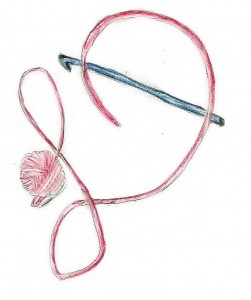 Just because it is cold outside doesn't mean that spring isn't right around the corner! My latest design,  Enjoy the Breeze Tee is found  in the Spring 2014 Issue of Crochet! Magazine.
I enjoyed the way the color of the yarn worked up in the design, it is Deborah Norville Serenity Garden, in color #0005 Mountain Heather, and I admit I think the name fits it well. I can see the color of the wild flowers along the melting snow of the mountains, hinting in spring. The yarn also lends to the fabric draping really well, it is a microfiber and is cool to the touch.
There is a more subtle design going on in the shirt it has "peek-a-boo" kind of rows that are placed at expanding intervals, more closely together at the bottom and further apart at the top (none over the bust line, as I really do not feel it is flattering to "peek-a-boo" ones undergarments).
In the sizing (from S-2XL) not only is the shirt wider, but it is longer in larger sizes as well (amazing how much more flattering a couple of rows can be, and comfortable). Another of my personal pet peeves is when my shirt rides up the back as I sit down.
This design is also featured as a Crochetalong at the Crochet! Magazine Ravelry Forum throughout the release of the issue. Join along and see how it came out of others.