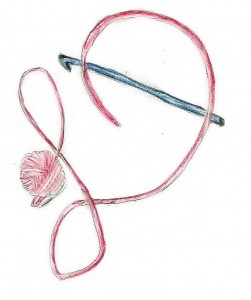 It is always a fun morning when I learn  that I have a new design out and published that I can share with the world. Today the Parisian Champagne Throw is available in the August 2017 issue of I Like Crochet Magazine is out and alive in the world.
This throw actually started out in a smaller format. The motifs that I have designed, I originally considered for a thread table cloth. I have fun working up the little round motifs and thought they fit together a bit like clockwork. However after creating a square contaminating 4 of them I felt that they would be a really busy looking pattern for a table cloth. Thus they became a 4 square motif in themselves, and then joined with others. As is usual I have worked these motifs as "join as you go", so there is no sewing or seaming needed.
My decision to alter the original design from a thread table cloth, really was one of complete practicality. This design really works best with two colors and weaving in all the ends necessary for a table cloth…in thread…was a bit too daunting for me to consider.
The design is worked up in a heavier weight yarn then you might usually consider, but this helps give it a practical picnic use for these warm months, while still giving a practical warmth factor for cooler months. It is pretty easy to find two colors that you enjoy together, and this throw works great with any of them. Personally I really like how the soft cream really allows the coral to pop, giving a comfortable and subtle contrast.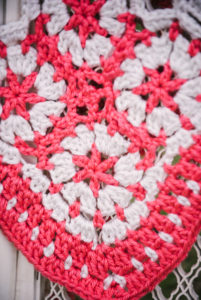 This throw can also be taken down a bit, attempt it in a baby yarn and create a memorable baby blanket, without having to worry about meeting the gauge, as the smaller yarn and hook will automatically adjust the motifs to a correct size.
I hope that you give this throw a try, and share your progress with me. I still haven't got a table cloth, but maybe the next design.