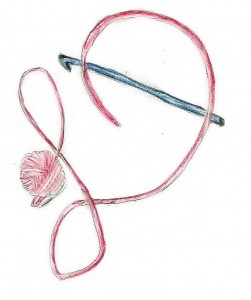 Sometimes it is just the simple alteration of stitches that can create a texture that can have a purpose. Simple Bars, as I am calling it, has a great textural appeal, with little work. The texture has a nice visual appear but in some applications can have a very practical purpose as well.
Essentially this is just alternating front and back post double crochet stiches, to begin you create an even number of chains. Double crochet in the fourth chain from the hook and in each stitch across. Chain 3 and turn your work, in the next stitch work a front post double crochet, and in the next stitch work a back post double crochet. Repeat alternating front and back post double crochets across the row, work a double crochet in the last stitch Then chain 3, turn and repeat the same stitch pattern. It really is that easy.
Here is the traditionally written method:
Chain an even number
Row 1: Dc in 4th ch from hook, turn.
Row 2: Ch 3, *fpdc in next st, bpdc in next st; rep from * across, dc in last st, turn.
Row 3-desired length: Repeat Row 2
This Simple Bars creates enough texture that when worked up in cotton can make great dish clothes. I would use a heavier weight cotton, not a thread, something like a light or medium weight yarn. The reason cotton is a choice it that it will not melt under high heats like acrylic, and holds water really well.
Not everywhere that crochet can make a difference is readily apparent. The simple kitchen in our community can easily be overlooked, but really make a small difference. Everyday throughout every community there is a hot meal being made and served to people in need. In some cases these are traditional soup kitchens with volunteers serving food donations to people in need, in others they are community halls that host community pot lucks, where everyone in attendance brings a dish to share. Some communities find these in churches, some in schools, but crochet can be donated here in the way of pot holders and dish clothes. Consider making a few for your community kitchens, sometimes it is the little things that can make all the difference.