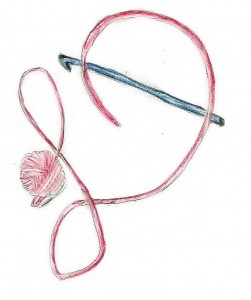 Wow! A whole month of focusing on crochet blogs is almost to an end; but I might just have to follow along with some that I have visited over the past 30 days, and I hope you will consider doing the same. (here is a list of all the participants)
First I would like to thank Amy and Donna of Crochetville for putting this tour together. They are very supportive and encouraging of all things crochet, and help all of us with a hooking habit feel at home and welcome. I can't wait to see what new ways to support crochet they have up the sleeves. Another supporting factor I have found in the world of crochet is the Crochet Guild of America (CGOA). Becoming a member and taking the opportunities that it has presented has changed my life…and that is not just a figure of speech. I am a crochet instructor, but only started having students after I passed the Masters of Advanced Stitches and Technique. I am a new designer; I only sold my first design at the Summer CGOA conference in Minneapolis, July 2011, and now at this moment I have 7 designs in 3 magazines that are currently at your local news stand.  All of that is possible because I took the opportunities that CGOA offered, including meeting many supportive and encouraging people.
Unfortunately I do not have a local chapter of CGOA (there is one an hour drive away, and the meetings have never worked in my schedule), but I have found a local "non-denominational" fiber guild in my community, so I know the benefits belonging to a supportive group that enjoys the same things you do. If you have never considered visiting a guild (it took me a while, I thought that they were trade unions from the middle ages, at least that is what I remember from history class), the opportunity to make new friends, that actually understand crochet terms, is invaluable. Definitely finding a crochet community makes a difference. You can check here to see if there is a CGOA guild in your area. These groups help ensure that crochet is not just featured one month of the year, but throughout and open you to new ideas and approaches. They also usually help in the community (like this blog tour, helping Project Night Night, look here for more information), and make a difference in a variety of ways.
When writing this post, I had many thoughts of knowledge and tricks I have learned and would love to share with you, but the most important thing I can impart is to get involved, and find a supporting network of crochet lovers. (If you want to hear some of my knowledge and tricks, feel free to follow me on my crochet journey).
One of the things I have learned from my local guild is the expanse of fibers available in yarn and how to use them, so I wanted to share an opportunity with you to enjoy some yarns you probably don't have in your stash.( I find it amazing to me how different the same pattern can look with a different yarn or fiber) So, I am giving away a skein of Lisa Souza's Glacier Yarn (100% Bombyx Silk) to 3 lucky winners (just simply leave me a comment on this post about what you enjoy about crochet or what it means to you, I will randomly select 3 comments on April 2, 2013 at 9:00am PST).
From the CGOA I have learned many new techniques and I would like to share my free Tunisian Mini Shawl pattern (created out of 1 skein of the yarn being given away) as a tribute to those that have encouraged me. Check out my free pattern download from either Crochetville's Free Pattern Library or by using this  Free Tunisian Mini Shawl Download
Don't forget to check out the other featured blog today…Kristin Dragos and don't forget tomorrows the last day of March, where has the time gone?