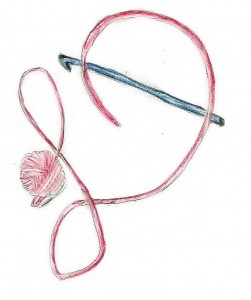 I always find it fun, the way that crochet can be worked in so many different ways and still come together to create something that makes you say "WOW!"
The designs in Alla Koval's latest books, Imagical Seasons- Spring & Imagical Seasons- Summer are no exception. Alla has won awards for her designs in the Crochet Guild of America annual Design contest, and having seen her work in person I can tell you that photos just don't do them justice. She uses creative construction techniques and fun stitch placement to make her designs shine.
If you want to check out Alla's designs for yourself, I am fortunate enough to be able to give away both of her new books, 1 to each of 2 lucky winners! The Imagical Seasons- Spring will go to the first, and the Imagical Seasons- Summer will go to the second. All you have to do is leave a comment on this blog post by the end of the day, Wednesday, August 26, 2015 and the winners will be randomly selected the following day and announced on Twitter and my Facebook page.