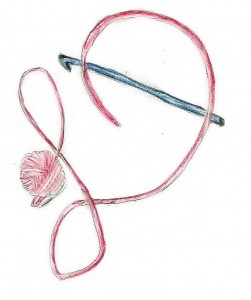 Hard to believe that Autumn weather is almost here, but luckily Crochet World Magazine's October 2013 issue is out, and it has some fun ideas that help with this seasonal change.
I have two designs featured in this issue so I might be a little biased.
The Birds of a Feather Table Runner reminds me of the country farm; okay, so I am still on a country farm, but my rooster is noisier than the ones on the runner.  I enjoyed doing this filet work; to me it has a little old world charm but an updated feel with the harvest colored thread. I can honestly say that this design makes me think of fall, probably because the thought of the "farm" brings about memories of bringing in the crops, and a rooster definitely makes me think of farm.
The Tactical Squares Afghan is one I really think my son will enjoy. Usually you see a lot of open work designs, and it makes it difficult to find something that can have a masculine feel, but I think this one can accomplish that. Masculine to me has a more full texture then lacy work feel, it could be cables or such, something with a raised stitch to it, it is also simple and bold. My son always gets a little jealous, since it is so much easier for me to work something up for his sister, something lacy, a little skirt, and he feels a little left out. I think that this afghan though might make up for it a bit.
So there are some of my thoughts of how a couple of more of my designs made their way from my mind to my fingers.