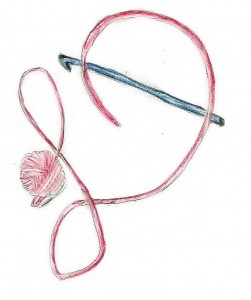 In my home we have limited birthday parties. My kids have a family party every year, where they get to set the menu for dinner and we share the meal with any extended family that can attend. However, we have an agreement that when they turn 10 they can have a party with friends, at 13 they can have a sleepover party.
So as I am now dealing with my agreement to have a birthday party with friends, I actually undertake some crochet. Over the years my kids have attended many birthday parties, and they often come home with little gift bags full of trinkets and candy and this got me thinking. How often do I just throw out these gift bags full of empty candy wrappers, can I create something a little different, a little more practical…well I think I have.
I have taken some scrap yarn and created small hats, kid sized, and used them as gift bags. So after the party and all the treats have been eaten the guest have a hat to keep their heads warm or play a little dress up.
It may be a little time consuming, but I think it is worth it. My kids actually really like the idea, and find it fun that everyone can have a different color and a different style. Well at least so far my kids still appreciate my playing with yarn.
I do not have or follow a pattern, I just create a flat circle until it is about 6" to 6 ½" (15-16.5mm) in diameter, and then stop increasing until it is about 7" (18mm) from the center to edge- the radius. I use a verity of stitches, whatever might tickle my fancy at the moment. Then I fill them with candies and toys to share with my children's guests.