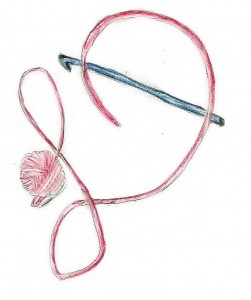 I am really excited about my latest design! Not only is it fun to work up with a great drape and fit over the shoulders but it helps fight cancer!
The Twinkle Hope Diamonds Shawl (find it here on Raverly) is a join as you go motif design that high lights a large motif in the back, and since it is V shaped it stays in place over the shoulders. I will admit the name has a little of a double meaning to me. Yes, they are diamond shaped motifs that have a twinkle effect of the stars I see at night with the slight taper in the edges; but I also see it as also a symbol of hope.
I have had several people close to my heart be affected by various cancers. Some are no longer with us; some are living a life forever changed. I know that I am not alone by having had cancer enter the realm of life, so I am happy that all the proceeds from the sales of this design (as well as any other of my design patterns) goes directly to benefit cancer research through the organization Cast Off Chemo.
All designs created for this program have done with hours of volunteering. The pattern writers, sample stitchers, technical editors, photographers, publishers, designers; everyone, has donated their skills to create an avenue to raise funds for this worthy cause.
So, if you feel so inclined, please check out my latest designs, the other designers featured by Cast Off Chemo, or donate to the organization directly. It is always the small steps that can make the biggest difference.