Playing in the kitchen can be fun and I have found ways to bring crochet into the mix. Crochet in the kitchen is not a new thing. I have crochet potholders and trivets, crochet dishtowels hanging from my stove door, some crochet dish cloths, and even crochet handle covers for cast iron pans. However, I have started embossing crochet in my baking.
I made a personal challenge to work my way through a Swedish book on baking this last year, and can say with tasty results. Starting my morning with a cup of hot tea or coffee and a couple of butter cookies have become part of the results.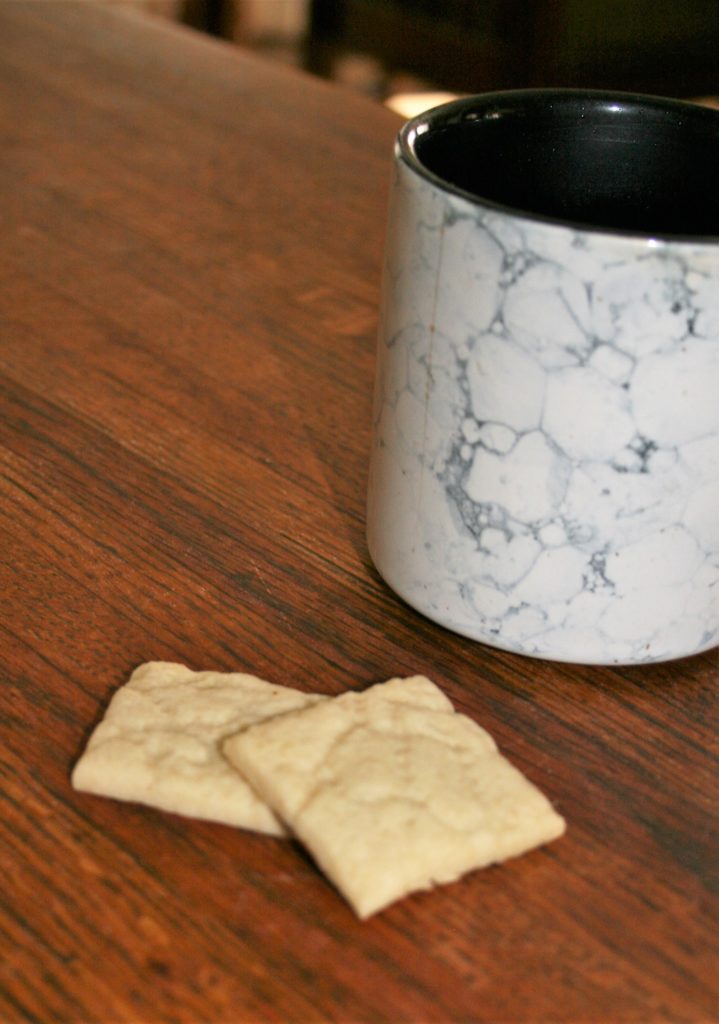 Embossing Crochet Butter Cookies
I have played with a couple of butter cookie recipes and found some quick, simple, short cuts that have made these my new go-to snacks. When I start rolling out my cookies, and they are ready to cut, I place a crochet doily over the top of the dough and work my rolling pin over it. This embosses the doily pattern into the fabric. I then take a pizza cutter and cut the dough in squares and bake.
I get to enjoy the doily design with my coffee in the morning. They look like I spent time and effort on them, and when really they are my simple pleasures.
Want to try them for yourself?
Emboss Crochet Butter Cookies
1 cup cold butter, cut into pieces
1 ½ cups powdered sugar
2 teaspoons vanilla
1 egg
3 ¾ cups flour
Preheat oven to 400°. Place all ingredients in food processor and turn on. Mix for about a minute, or until dough looks like sand, but when pressed sticks together. if it does not seem to come together well, add a little water about 1/2 teaspoon at a time, until it forms a dough.
Pour dough into a bowl or onto plastic wrap and form dough into a flat ball. Place in the refrigerator to chill, at least 10 minutes up to overnight.
Time to roll
Roll dough out to desired thickness (usually between ¼- ½ inches). Place clean doily over dough (you can also place a piece of plastic wrap between dough and doily, but keep it loose). Roll impression of doily into dough. Note: often you kitchen lighting does not show the texture very well, so get down to eye level to get a better look.
Chilling helps embossing crochet
Cut dough into 2 inch squares (or desired shapes), and place on baking sheet (since the cookies do not spear, you can place many on the tray, close together). I usually get a few dozen squares. For best embossing, place cookies in refrigerator for 10 minutes to re-chill. Bake for 8-10 minutes. It may appear that the embossing is not as detailed, but let the cookies cool and the impression will become more visible.
You can use the same technique with any crochet pattern, on any rolled dough. However a cold dough helps keep the embossed image best. Image your next pie with a lace embossed top…it is definitely on my list to try.