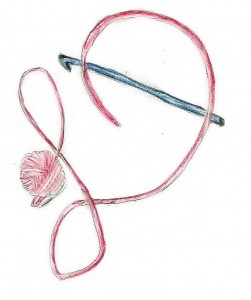 Yarn with a little spring can keep things interesting; Mountain Colors Crazyfoot is just such a yarn.
Crazyfoot is a 90% superwash merino, 10% nylon, light weight, 4 ply yarn that offers a bit of bounce in the stitches, while having a surprisingly round yarn that gives good stitch definition.
The superwash indicates that the wool has been chemically treated so that it will not felt. In this processes essentially what happens is that the "scales" on each individual fiber are smoothed or relaxed so that they do not catch on the "scales" of the adjacent individual fibers. It is these "scales" (much like the pictures that hair conditioner commercials have used as a before photo) that join together and attract to each other that causes felting.
The process does not change the other properties of wool, as it is still fire resistant, still warm when wet, still takes dye well, still resists odor absorption, still has great stretch, and still able to wick moisture from the body keeping the body at a neutral body temperature.
When paired with a nylon this becomes a very stable and resilient yarn, that can offer a yarn that will stretch and readily spring back into its original shape. It is great for socks, gloves, hats, any garment with a negative fitting ease (where is stretches over the body and hugs the skin), it could even serve as a good outer garment, yet the weight of the yarn may limit its use in this area.
The yarn has a nice twist that does not readily split and holds its shape nicely. This allows for nice stitch definition, creating stand out for texture stitches. The only deterrent is the dependent upon the color way selected. Some of the short color repeats may cause distractions to more complicated stitch work, but overall it is a yarn that I go back to time and again.