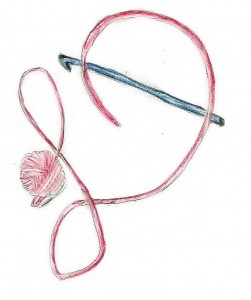 I have played with a lot of yarn over the years, but I do not think that I have ever found a yarn that is so forgiving, or as "squishy" as Ancient Arts Big Squeeze.
This yarn is 100% Superwash Merino, as a result it will not felt or shrink but has a very soft feel. The way this yarn is spun it has a great loft to it, and this has a couple of benefits. Not only is it forgiving in the stitches, and adjusting well for uneven tension, but it also holds more air making it warmer.
This bulky weight yarn comes in a skein size of 127 yards (116 meters), which is comparable to other skeins of this weight, and one skein can easily complete a scarf or hat project. With the larger yarn, it garners a need for a larger hook a J/10/6.00mm will give you a pretty dense fabric, and you may prefer working with a hook size of at least K/10 ½ /6.5mm or greater.
The smooth even ply of this yarn also gives great stitch definition so it makes your stitches the star of the show, even though it comes in over 125 brilliant colors.
I feel this yarn will work up nicely in any home décor, simple accessory, or outer wear garment project. Due to the weight and lofty, it is obviously not the choice for small delicate items (in either look or feel). I also would not necessarily recommend it for projects that have a lot of fine detail, as the large bulk and hook make the details almost disappear.
My overall impression of this yarn is that I could just wrap myself in it and it would be a pillow and a blanket, maybe an all in one cocoon, which I could happily go about my day. It is a dream to work with.